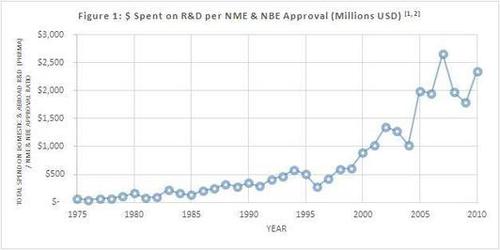 Many of us concur that the biopharmaceutical industry is facing a crisis, and that the R&D process needs to transform entirely in order to address skyrocketing costs and minimal effectiveness. While we are starting to see advancements in scientific technologies that address the challenges with early phase research, discussions surrounding the operational and financial aspects of clinical trials do not seem to be addressed frequently. This article will discuss these differences, and address simple and effective ways of reducing R&D costs through effective business models in clinical research.
The rut the biopharmaceutical industry is in
The biopharmaceutical industry is experiencing significant challenges surrounding cost control and strategies in R&D. Figure 1 demonstrates that the amount of capital spent on R&D has continually increased since the 1970s, and has become increasingly volatile since 2004 1, 2. In 2010, the cost of receiving an NME/NBE was $2.35 billion.
See on www.pharmaphorum.com