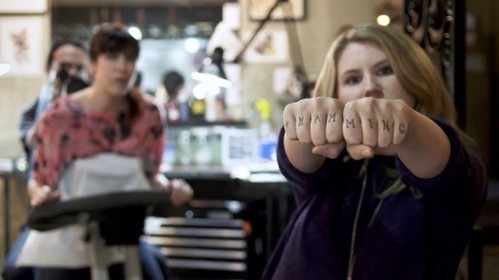 The healthcare marketing craze sweeping Instagram? #Mamming–a funny breast cancer awareness campaign to get women to the doctor's office to get mammograms.
As part of National Breast Cancer Awareness Month, This Is Mamming encourages women to "embrace the awkwardness of mammogramsand inspire more women to mam where it counts: at the doctor's office." By bringing humor to the situation, #mamming hopes to make women make that awkward moment in the doctor's office a regular thing.
So whatismamming?
#Mamming is the act of laying your (clothed) boobs on a flat surface. Like a counter. Or a bench. Or the body of a person who is #planking.

#Mamming is a chance for all* of us to show solidarity with the millions of women getting mammograms this Breast Cancer Awareness Month. Because when a woman reaches a certain age, doctors recommend that she get a mammogram to screen for the disease, and the procedure involves laying her boobs on the machine's flat surface.

It's awkward. But it can save her life. Because when breast cancer is caught early, over 90% of women beat it.**
According to the website, the campaign was started by two advertising execs. One is a breast cancer survivor.
See on medcitynews.com