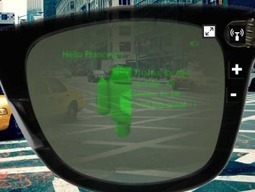 Google Glass competitor GlassUp is unveiling its first public prototype today at CES in Las Vegas. Clearly, the Venice, Italy-based startup has a long way to go to catch up to the current smart glasses leader.
"It is sort of cyborg," GlassUp CEO Francesco Giartosio told me last week via Skype. "But all this goes away."
GlassUp
You get one guess on what OS GlassUp runs …
GlassUp actually started building its wearable heads-up display before Google announced Glass. The company's goal is actually the opposite of cyborg — and the opposite of what has long been one of the top objections to Google Glass: that Glass makes you look like a Star Trek dweeb. GlassUp will look like an ordinary pair of fashion lenses, Giartosio says, and therefore won't stand out as a tech accessory, but rather a fashion accessory.
At the moment, though, that's a future goal rather than a current reality.
See on medcitynews.com