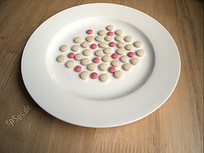 FRANKFURT (Reuters) – Germany's Bayer expects a campaign to accelerate the pace of new discoveries of ingredients for pharmaceuticals and pesticides to yield results as early as 2016, a management board member said.
"We expect it to be reflected in our pipeline in the next two, three, four, five years," Wolfgang Plischke, Bayer's outgoing innovation chief, told Reuters in an interview.
Under the project named Nimbus, announced in 2012, Bayer's human and animal health businesses as well as its CropScience division are being tied together more closely and hundreds of Bayer researchers are encouraged to exchange information that could help in the discovery of new ingredients.
Bayer hopes the project will give it an edge over rivals such as Sanofi, Pfizer or Syngenta, which do not have all three business areas under one roof.
Bayer has said in the past it plans to provide up to 30 million euros ($41.3 million) per year to finance the Nimbus project. It spent an overall 3.01 billion euros on research in 2012, up from 2.9 billion in 2011.
"Our philosophy is to have similar research budgets for the coming years," Plischke said.
(Reporting by Frank Siebelt; writing by Maria Sheahan; editing by Tom Pfeiffer)
See on medcitynews.com