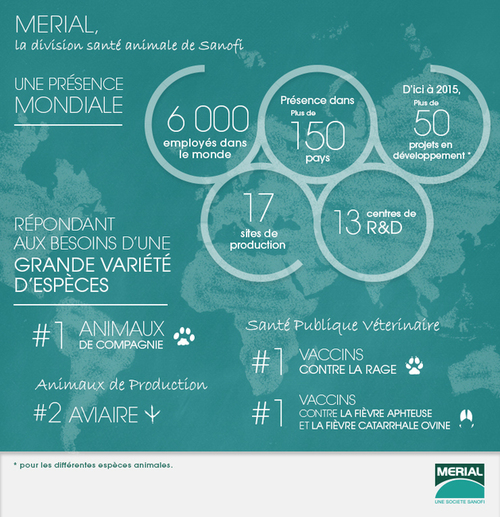 Animal health is a sector of multiple challenges, vital to the global economy
Le marché de la santé animale est un secteur vital pour l'économie mondiale car il répond à des enjeux multiples: sécurité alimentaire, santé publique avec la lutte contre les épidémies animales transmissibles à l'homme et renforcement de l'attachement aux animaux de compagnie. Merial, la division santé animale de Sanofi, répond ces enjeux en proposant une gamme complète de médicaments et de vaccins destinés à améliorer la santé, le bien-être et les performances d'un grand nombre d'espèces animales.
 La sécurité alimentaire
L'augmentation de la demande en protéines animales sûres (viandes, lait, œufs) – qui devrait croître de 50 % d'ici à 2030 – est liée à la croissance de la population mondiale et des classes moyennes. Cette croissance est particulièrement rapide sur les marchés émergents tandis que dans les pays matures, le marché reste compétitif.
Merial contribue à la sécurisation de la chaîne alimentaire par la prévention sanitaire : vaccins pour les animaux de production, anti-parasitaires et anti-infectieux. La division santé animale de Sanofi joue un rôle majeur dans la performance et la rentabilité des élevages en permettant aux éleveurs de produire des protéines animales en quantité et en qualité suffisantes.
See on www.sanofi.com