See on Scoop.it – Pharmaceutical Industry digital vision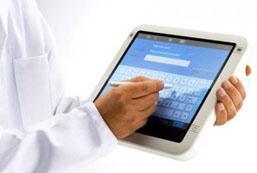 When it comes to reading articles in medical journals, 28 percent of physicians use tablets and 21 percent use smartphones according to arecently published study by ad agency WPP's Kantar Media. That's still much lower than the 74 percent that use a desktop or laptop computer or the 55 percent still reading paper journals.
Kantar Media surveyed 3,000 doctors across 22 specialties over two different six month periods for the study. The latest data was collected via questionnaires sent out by mail between May 2013 and August 2013 and an online survey conducted in July and August 2013.
Around 51 percent of physicians told Kantar they use a tablet device for professional purposes. Forty-nine percent said they used a tablet for personal and professional purposes, 19 percent for personal use only, and just 2 percent for professional use only. Adoption was much higher for smartphones — Kantar found that 78 percent used them for professional and personal tasks, 10 percent used them for proffesional tasks only, and less than 1 percent used them for personal tasks only.
Read more: http://mobihealthnews.com/29253/survey-doctors-prefer-tablets-for-journal-articles-smartphones-for-most-other-tasks/
See on mobihealthnews.com