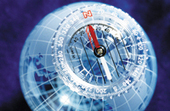 Big Pharma and biotech continue to need each other. But biotech is feeling slightly more confident as the options for IPOs get better, writes Peter Young.
Business issues include ongoing structural challenges in pharma and biotech such as a very different R&D/commercialization dynamic; changing relationships with patients and providers; shifts in patent laws and regulation, reductions in government spending and unpredictable behavior with regard to pricing, market access and IP. External factors include a global economy struggling to resume growth and financial stability; continuing government efforts to prevent a Euro zone economic and financial meltdown; political uncertainties linked to the phase-in of comprehensive health reform in the US; economic slowdown in emerging market economies like India and Brazil; and a positive surge in Western stock market valuations.
These external factors have had an enormous incremental effect on the financial trends in pharma and biotech this year and will continue to have an impact going forward.
A recent report "Pharma and Biotech Strategic, M&A, and Financial Trends Report" by Young & Partners covers the first three quarters of 2013 and the outlook for 2014. The report presents a separate view of both the pharma and biotech industries and tracks :
See on www.pharmexec.com
From Pharmaceutical Industry digital vision