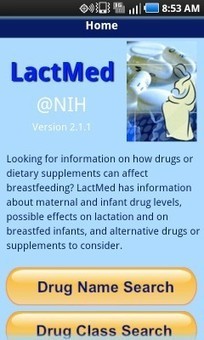 Use LactMed for evidence-based lactation information including drug levels, further reading, and effects of drugs on infants and lactation.
Purpose of App ReviewDoes the NIH mobile resource on lactation information really help breastfeeding mothers understand their drug intake effects on infants?
LactMed is an app developed and maintained by the National Institutes of Health (NIH) and offers dependable information for lactating mothers.
The app contains evidence-based references on how certain drugs taken by a woman present themselves in breast milk, and how these drugs may affect or impact an infant's well-being.
The mobile app is also available online via TOXNET.
It also contains suggestions to alternative drugs and drug classes for mother's to make more informed decisions about their medication intake while breastfeeding. Along with recommended drugs and supplements, LactMed provides information about safe maternal and infant drug levels as well.
See on www.imedicalapps.com